News Article Title : Mortal Kombat TV Game
Category : General Gaming
Date Added : 2005-08-16 16:27:20
Written By : Daniel Crabtree

The classic arcade fighting game Mortal Kombat is back, along with a bunch of other retro games. JAKKS TV Games has brought some of the old classics back in a range of simple devices that can plug straight into your TV.

If you're old enough to remember playing the classics in your local arcade back in the 80's and early 90's you will remember Mortal Kombat, and possibly the even older classics like PAC-MAC. If you do, you're sure to enjoy JAKKS TV games as they let you go back and play these classics and more with ease. If you don't, and you're a diehard gamer or your kids are, it's well worth getting them or yourself acquainted with the classics that started it all.

The device is dead easy to use, simply add 4AA batteries (screwdriver required), plug into your TV's RCA sockets, and play. Retro-gaming at its simplest.

Take a look at the Mortal Kombat controller and packaging below and then check out the full press release for the Mortal Kombat game or just go straight to JAKKS website and check out the full range.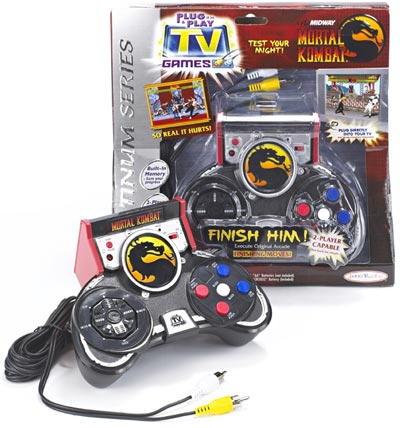 JAKKS™ BRINGS BACK MORTAL KOMBAT® FOR TV GAMES™

MALIBU, CA – February 18, 2005 – Mortal Kombat® TV Games™ controllers are portable gaming units that contain the original arcade version of the first videogame in the series, Mortal Kombat® from Midway, and is the newest title from JAKKS Pacific, Inc.'s (Nasdaq: JAKK) award-winning TV Games™ line.

All that is needed are batteries and a TV -- no videogame consoles are required. Simply plug Mortal Kombat TV Games unit into the A/V jacks of any standard television set, and turn it on to morph into Sub-Zero, Scorpion, Raiden, Liu Kang and the rest of the Mortal Kombatants and lead them into battle in the hopes of becoming the Mortal Kombat champion. Execute brutal combos and deadly finishing moves! Defeat the half-human dragon Goro, and destroy the shape-changing Shang Tsung to become the supreme Mortal Kombat warrior!

Mortal Kombat TV Games is part of JAKKS' Platinum TV Games™ brand and features realistic graphics and a save feature so that gamers can store their progress as they defeat the many ranks of the warriors. All 7 original fighters with all their special moves and combinations will appear exactly as they did in the arcade. The controller functions like the original arcade version, with five fighting buttons – making for the most realistic Mortal Kombat experience since the arcade. The Mortal Kombat TV Games controller also comes with a built-in link port, allowing players to connect two controllers with the connector cable provided to fight head to head!

Mortal Kombat TV Games retails for $19.99 - $24.99, and will be available at mass merchants, electronics, toy and specialty retailers nationwide in March.

JAKKS Pacific's TV Games™ brand is included in multiple best toy lists this holiday season, including Toy Wishes' Hot Dozen List, Toys "R" Us' Joy List and KB Toys' Hot Holiday List. For more information on JAKKS' TV Games, go to www.jakkstvgames.com.

About JAKKS Pacific, Inc.:
JAKKS Pacific, Inc. is a multi-brand company that designs and markets a broad range of toys and consumer products. The product categories include: Action Figures, Art Activity Kits, Stationery, Writing Instruments, Performance Kites, Water Toys, Sports Activity Toys, Vehicles, Infant/Pre-School, Plush, Construction Toys, Electronics and Dolls. The products are sold under various brand names including JAKKS Pacific®, Play Along®, Flying Colors®, Road Champs®, Child Guidance®, Pentech®, Trendmasters®, Toymax®, Funnoodle®, Go Fly a Kite®, Color Workshop® and TV Games™. The Company also participates in a joint venture with THQ Inc. that has exclusive worldwide rights to publish and market World Wrestling Entertainment® video games. For further information, visit www.jakkspacific.com or www.jakkstvgames.com.

MIDWAY, MORTAL KOMBAT and all character names are trademarks of Midway Amusement Games, LLC. Used under license.